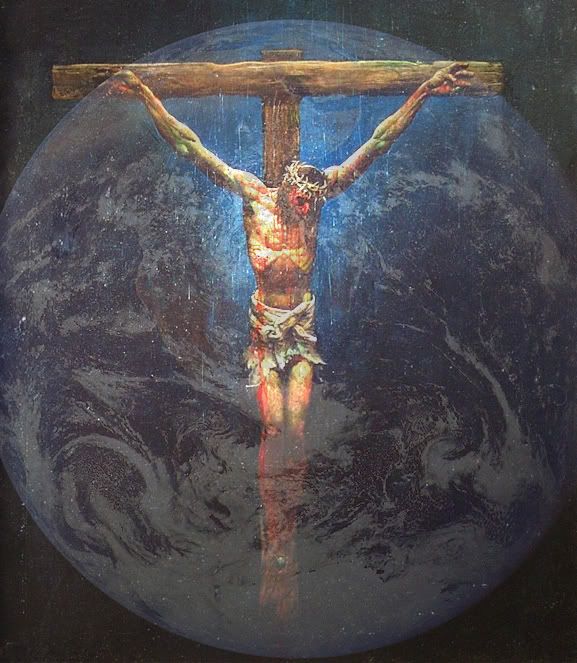 The cross was the means by which God would reconcile his creation to Himself...to save it(2 Corinthians 5:19). It cost Jesus his dignity and His life. And though he did it for "all" and the "world", somehow people seem to believe that most of humanity wont be saved from it. That somehow, the cross failed to accomplish its mission(though they would argue that it didnt fail, but it was simply us that failed to accept it, or some complex "God vs Man" rationalization).
But why cant Christ get all that he suffered and died for? Cant it be logical to say that God will not give up until everyone comes under that repentance, that love and salvation in Him?
The sad argument I hear against this often is:
"If all will be saved, then that cheapens Christs death on the cross"
Im sorry, but how on earth does someone dare to say that Christs death and payment on Calvary was somehow "cheap" if he reconciles not a few sinners, but all that God created and loves?
Thats like Jesus spending all His money to buy a mansion that he had his eyes set on His whole life(the guy was homeless His whole ministry maybe he wants His own pad for a change, eh?). But soon afterwards, as Jesus is about to enter the mansion, Satan hops out from the bushes and goes,
"HA HAAA! You have the keys to the mansion, but all Ill allow you to have is the tiny bathroom! I still own all the rest of the property that you paid for! HA HAAA"
. And Jesus replies.
"Awwww...shucks! Oh well, I like bathrooms!"
...but how does that even remotely make sense?
So people seem to rationalize this limited line of thought, by suggesting that God only meant to pay for "the tiny bathroom" of humanity, otherwise known as "the elect"(this is more the Calvinist view). That Biblical passages like:
"For God so loved the WORLD that he gave His only begotten son"(John 3:16) and
"[Jesus] is the atoning sacrifice for our sins, and NOT ONLY for ours but also for the sins of the WHOLE WORLD"(1 John 2:2)
...were only a figurative round-about way of saying the fraction of humanity that is called the "elect" of God.
And here we find a grave problem. Because if Jesus only died to save a few select sinners(us Christians in this life) than that means God chose us over the BILLIONS of unsaved, depraved people. He reached His hand down from heaven to save us from the fiery pit of destruction, but only gave sight to a select few to see that hand at all. Then He goes on to punish for all eternity those whom he didn't allow to have sight. And sadly enough, this view makes God out to be the worst villain ever to exist. This view states that though he allowed humanity to drown in a pool of sin, he only chose to rescue a few...even though He has the power and DESIRE(2 Peter 3:9) to save all. Consider this little cartoon:
Could God REALLY be like that? Mainstream Christian theology seems to think so. And this understanding sets in peoples minds...until they view the unsaved like this:
"God was gracious enough to save me, but not you! Oh well, you made your choice!"
We then as Christians, unknowingly, find ourselves more loved and cherished by God, because we are his "elect". We come to understand that God saved us Christians exclusively. This creates in us what I like to call "subconscious superiority". Its the same sort of "subconscious superiority" that Israel had because they were the "chosen people of God".
This subconscious superiority does not mean that you don't have "a heart for the unsaved" or that you automatically strut around thinking your better than anyone who is not Gods "elect". But at the same time...it creates that knee jerk reaction that goes,
"NO! Christ cant die for all, he died for me, he picked me, not you! His sacrifce would be meaningless if he REALLY died for EVERYONE!"
because the line of thought is (at least in the Armenian view) is that while God loves and died for everyone, He doesnt love them enough to save them and lets their clouded minds of "free will" override Gods ultimate purposes.(Calvinists would simply say Christ only died for the elect and thats all, but I digress). So the concept of us being the "elect" becomes subliminally etched in our minds and hearts as the pristine, "cream of the crop" batch of humans that God decided to REALLY die for over everyone else...because everyone else hates God and
just wants to sin against Him!
Rawr! (You like the rawr? I like the rawr. Im getting way off topic)
But in either case...the question burns...how can the scope of Adam's power to damn us be greater than the scope of Christs power to redeem us? Most would argue that it is not. But if we are honest with ourselves we can admit that according to both the Armenian and Calvinist schools of thought...the destruction of Adam will FOREVER claim the majority and will belittle the portion of souls redeemed through Christ. But how can that be so? How can that be Gods "perfect plan". Quite simply...it cannot be.
My honest question to you is, did He really die for you, more than He died for someone else? Did He die for the rich televangelist more than He died for the homeless drug addict? What makes us (Christians, the first fruits of Christ) any less of a sinner in need of grace than the next person who is never unveiled to His truth in this life? How can we truly believe that WE CHRISTIANS are all Christ came to save?
Israel certainty wasn't the only peoples to which God wanted to extend grace and love to, and later revealed that it was to the Gentiles too(Gen. 22:17-19).Was that not God's plan all along?:
John 14:47
"...For I did not come to judge the world, but to
save it
"
Luke 15:4-6
"
4
"Suppose one of you has a hundred sheep and loses
one
of them. Does he not
leave the ninety-nine
in the open country and go after the lost sheep
until he finds it?
5
And when he finds it, he joyfully puts it on his shoulders
6
and goes home."
John 17:21-23
"that all of them may be one, Father, just as you are in me and I am in you. May they also be in us so
that the world may believe
that you have sent me.
22
I have given them the glory that you gave me, that they may be one as we are one:
23
I in them and you in me. May they be brought to complete unity to
let the world know that you sent me and have loved them even as you have loved me
."
1 Corinthians 15:22
"22
For as in Adam
all die
, so in Christ
all will be made alive
."
1 Timothy 4:10
"that we have put our hope in the living God,
who is the Savior of all men
, and
especially
of those who believe. "
These are just a few of HUNDREDS of verses that hint at Gods awesome plan to reconcile all of man-kind to himself. So I ask you again...why cant God get all he really paid for? Will he only be partial to a portion of humanity? Or will He be the savior of all humanity...ESPECIALLY of the the "elect" who believe in this life, like it says above in 1 Timothy? I believe we Christians are not superior, but equals to the non-Christians...of which God loves JUST as much and WILL bring to salvation and repentance as He has desired from the beginning. Christs death is therefore not "cheapened" or "meaningless"...it was the very high price God paid to save us from our depravity. To show His love for us as a people...not just for the "elect". It was the only means by which ALL humankind could and SHALL be saved by.
I pray God opens your mind, and your heart.