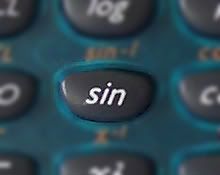 In
Christianity
, you will often hear something like this,
our finite sins deserve infinite punishment, because they are against an infinite God
Though I have already talked a lot about God's Justice in a
previous blog
, this particular belief continues to boggle my mind. As humans, we can neither physically see, touch, or prove God and/or His truths...yet He
supposedly
thinks we deserve unending punishments for temporary mess ups? Why would a perfect God be even
less
understanding
than a human?
Were we not born into sin by no fault of our own? If it is
anyones
fault, it is Adams...but even he was tempted by the Devil that GOD (yes, God) created. So from the very start, our "free" will has been at the mercy of forces and situations
completely
beyond our control. And all of these things have been allowed by God for some purpose(s), so how would it be
sensable
for God to hold us, imperfect beings by nature, forever accountable for the situations he placed us in? It makes no sense at all.
And it is curious indeed, that no scripture (that Ive ever come across) teaches such a bleak truth. No where is sin against God described as needing infinite punishment, solely just because God is infinite. The Bible simply describes the
penality
for sin as "death" (
Ro
. 6:23). And whether it is a physical or spiritual death described here(I would say both), it
doesnt
seem to imply the merit of infinite punishment we
supposedly
deserve.
On a final note, it is often said that Jesus paid the price for our sins, that he took our punishment for us. This goes along with the prophecy in Isaiah 53:5, which says,
But he was pierced for our

transgressions

, he was crushed for our iniquities;
Yet we also say that we all deserve an infinite period of suffering because of our sin. Using the same logic however, we would have to assume that Christ
suffered
infinitely
in order to pay the infinite debt we incurred. But, as any Christian can tell you, Jesus rose again just 3 days after death...he
did not
experience infinite suffering for one persons sins against God, let alone the whole world's sin!
So there is apparently a big hole in our theology